UPDATE: Having lived with the upholstered Fjellse bed for over a year, there are a couple of minor things I would have done differently – read more about that here if you are planning your own DIY.
The upholstered bed frame is finally done!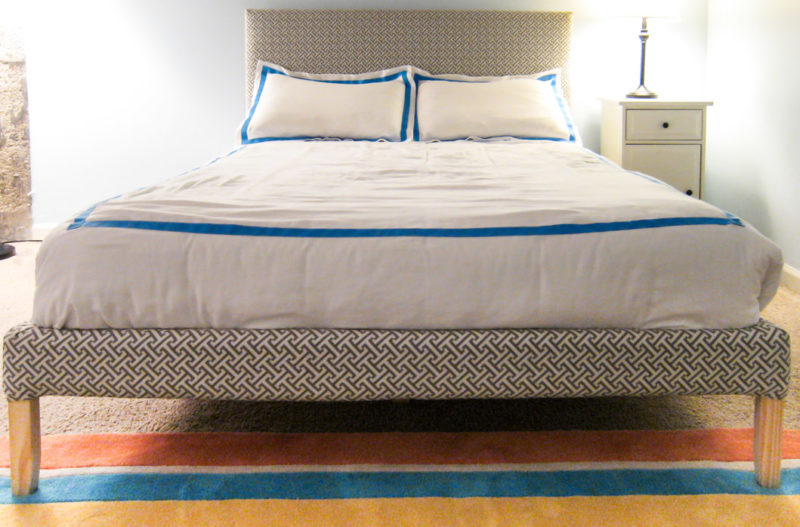 Thanks to the joys of loft living, there is very little natural light in the room. It makes taking decent photos challenging, so please bear with me on that! Anyhoo, I love the upholstered bed, and Little Man really loves it; there was a good deal of squealing with delight about "The Big Big Boy Bed!" – versus the Big Boy (toddler) Bed he's in now. And a decent measure of bouncing too (we'll have to work on that).
On the off-chance that you might want to create one of these DIY upholstered bed frames for yourself, here's how it went down…
You Will Need:
Fjellse full/double bed frame – Ikea
Sultan Lade slatted bed base – Ikea
55 7/8″ x 31″ sheet of pre-cut plywood (UPDATE: use the good stuff – cheap plywood can contain formaldehyde)
6′ of 1″ square pine beams
1/2″ foam batting – Joann Fabric & Craft
Fabric
Staple gun & staples
Wood screws
Screw driver
The Process
Here's what I started with: the Fjellse bed frame from Ikea. At $50, it's cheap as chips; it's also solid pine, sturdy enough, and not the most beautiful beast to look at. I also went with the cheapest option for base slats, which set me back a whopping $30.
One: The Sides
I readily admit that I did not do this in the right order, but it worked. To begin, I started by cutting some 1/2″ foam batting and stapling it around one side. I didn't go crazy with the staples, because I knew there would be plenty more to hold it in place when I attached the fabric later on.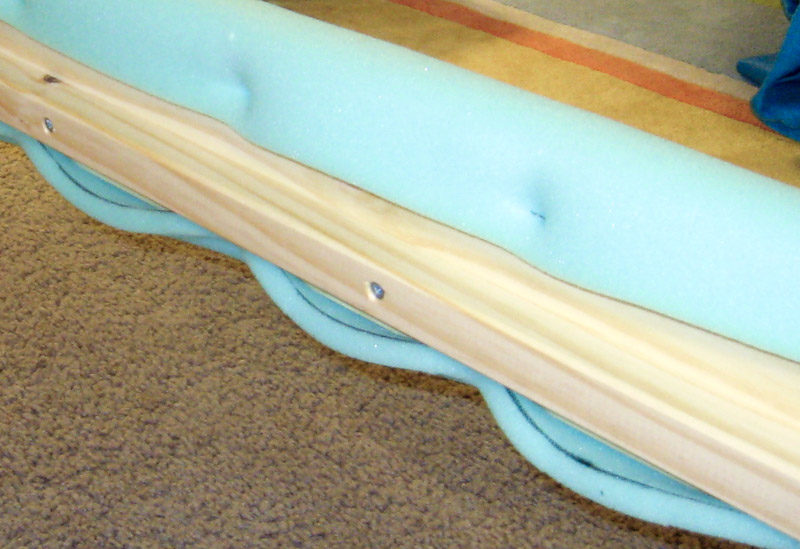 Then I got a bit carried away wanting to see what it would look like finished, so I stapled some wool felt over the top. I stopped stapling about 6″ before reaching either end (the Little Man was helping me, hence the toys strewn about).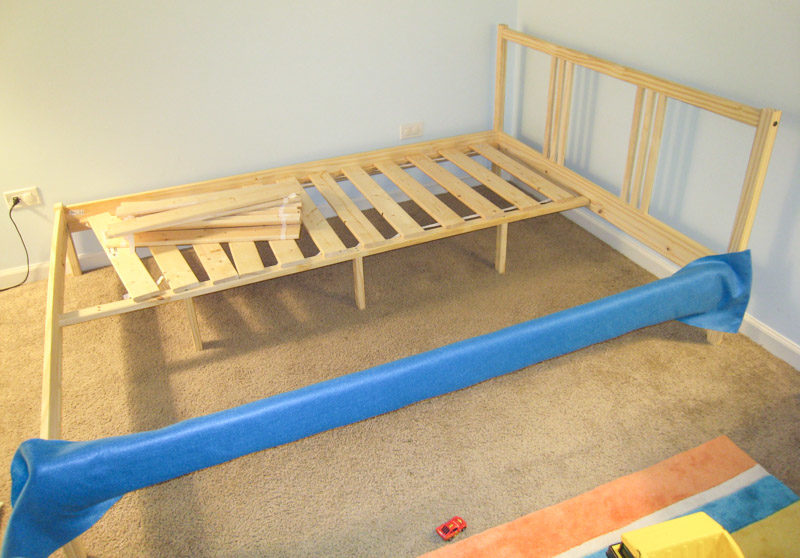 The blue wool felt cost me all of $5 for the entire yardage I needed to upholster the bed. It picks up the blue in the rug, and I couldn't find anything else that blew me away that was less than $35 a yard. I needed five yards, and $175+ for fabric was more than I wanted to spend. So the felt came home with me, despite my reservations.
Two: Building Up The Headboard
I wanted a nice tall headboard, so I asked the Mr to fetch me a big sheet of plywood (and he did, which was very nice of him). It measured the same width as the bed frame and about 10.5″ taller (making it 55 7/8″ by 31″) – ask at the hardware store and they'll cut it for you.
I drilled pilot holes and used wood screws to attach it to the headboard…
Then I added support beams to the back, built from 1″ x 1″ pine. I had these cut for me at Home Depot too, but they didn't do a very accurate job so I had to shorten a couple of them with a hacksaw. I was feeling pretty awesome at this point with all the sawing and screwing – I mean, seriously, I built something out of wood all by myself. (Heavily pregnant) girl power!
I used a bit of wood glue to attach my vertical beams to the top of the Ikea headboard, then secured the frame to the plywood with more screws. Here's where all the screws went: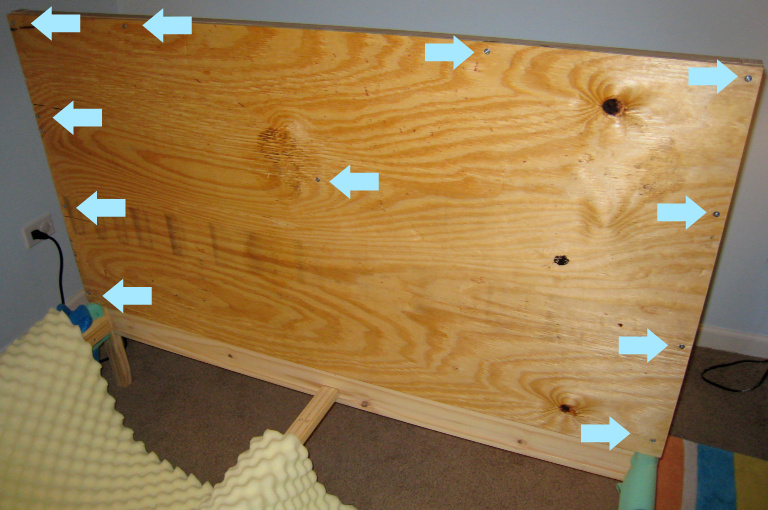 I also bought plates to secure the wood beams to the headboard better, but it's strong enough as-is so I didn't use them.
Three: Upholstering the Headboard
Next came the padding for the headboard. I'd found a single/twin size memory foam mattress topper on sale at Target for $5 – way cheaper than foam batting. I added more staples and trimmed the edges…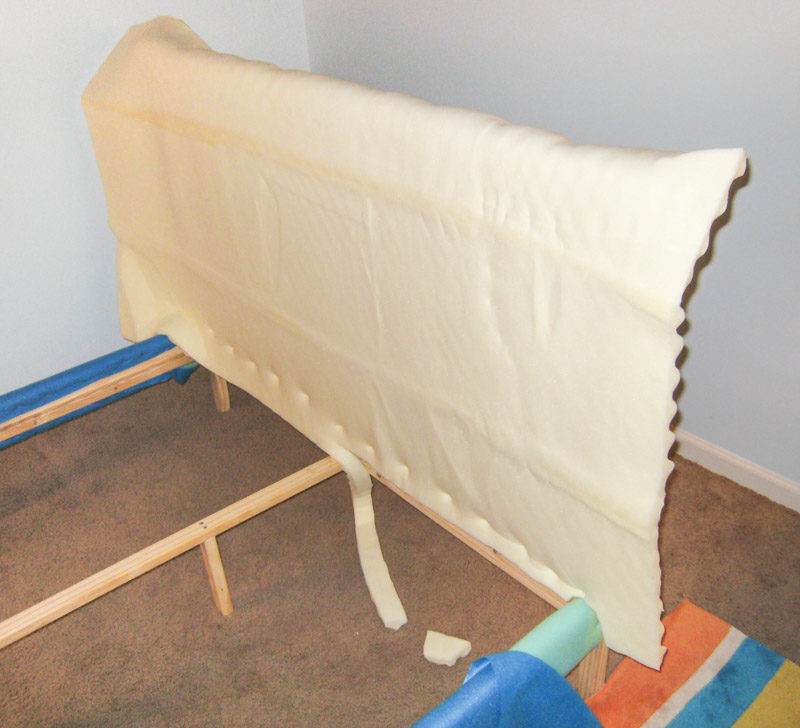 If you're curious, this is how I dealt with the corners (it's easier to just show you pictures than explain, I think):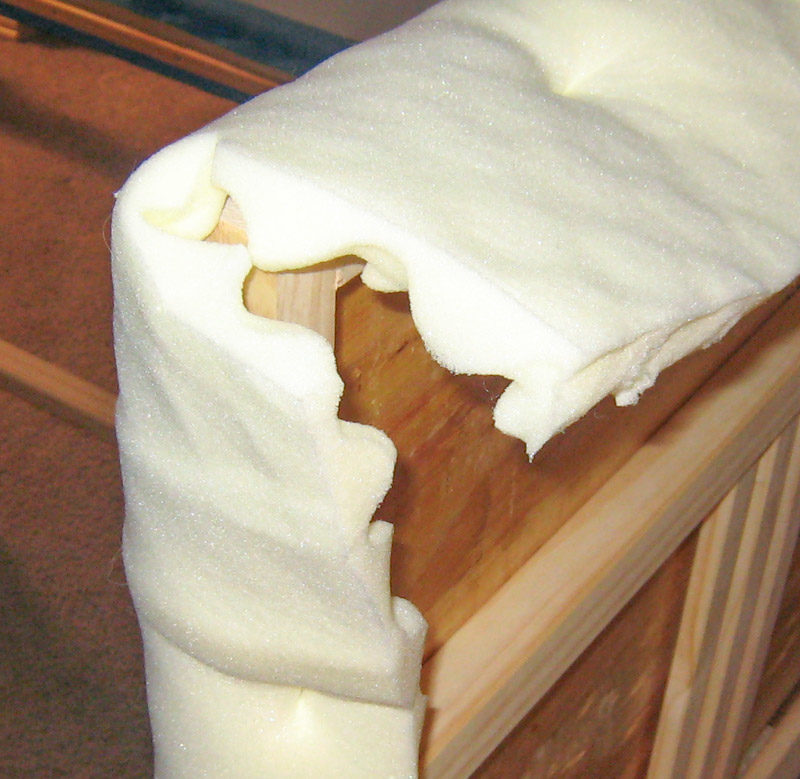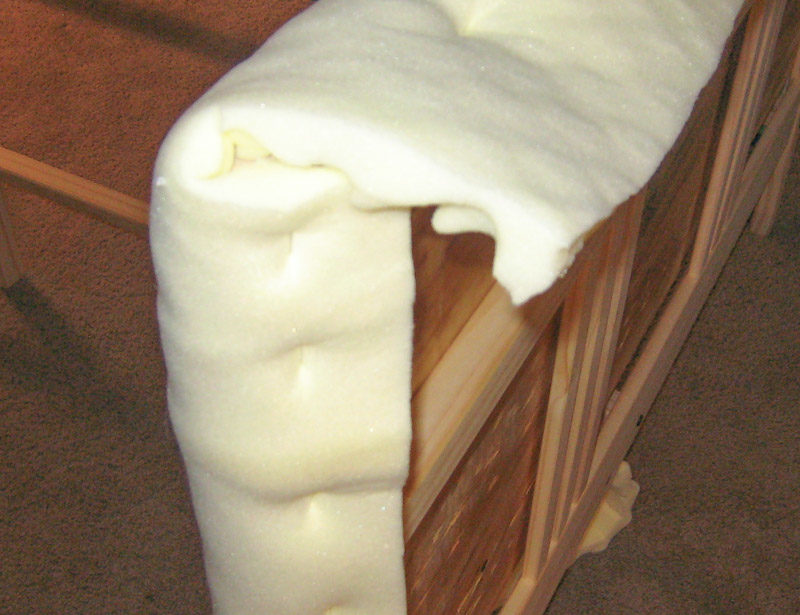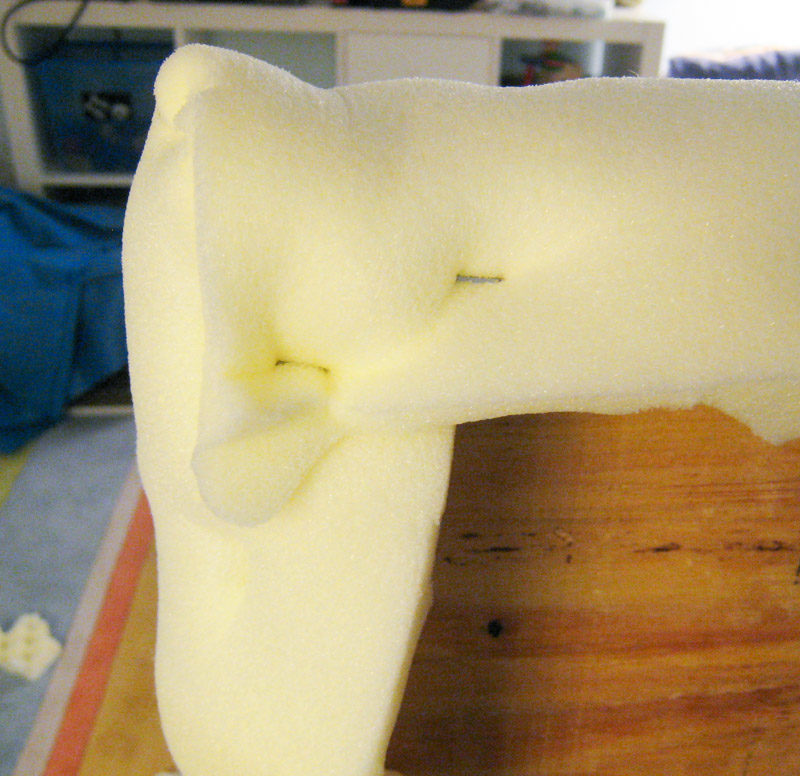 Next I stapled the felt over the headboard.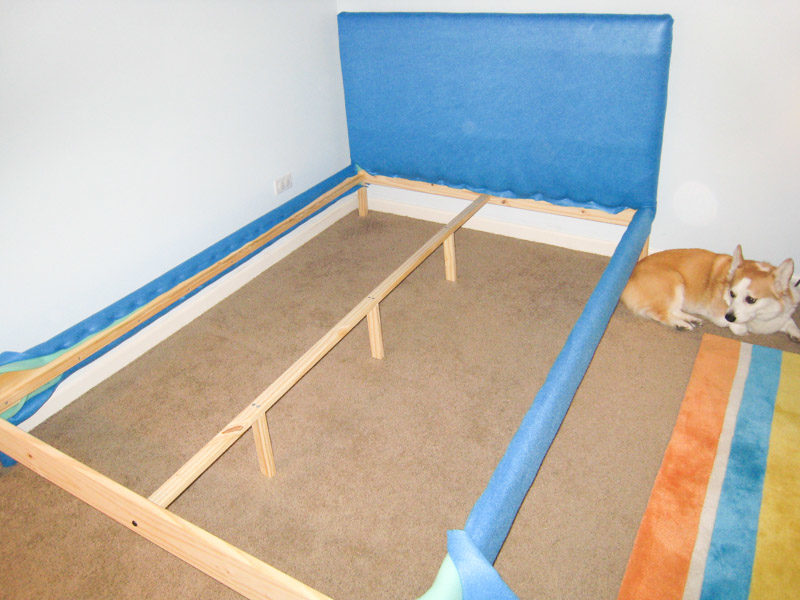 After adding foam to the foot of the bed, I was pretty sure that I hated the felt, but I carried on anyway.
Four: The Footboard
Not having thought about it beforehand, I realized that if I left the legs as they were, there would be a lump on both bottom corners, so I whipped out the hacksaw and made them flush with the sides. Obviously, this would have been easier to do before I put the foam on. This would also have been a good time to paint the legs.
Again, if you're interested, this is how the bottom corners went down:

Five: Re-doing the whole thing (Optional, and best avoided!)
Having basically completed the entire bed, I decided that I was very definitely not feeling the wool felt. It looked almost as cheap as it actually was, and it didn't seem worthwhile to skimp out on something that would have such a big impact on the finished look of the bed. So I trundled back to Joann's (I do a lot of trundling these days) to see if there was anything I'd missed the first time around. There wasn't, but I was still drawn to the $35/yard Dwell Studio fabric I'd seen last time.
It dawned on me that I should probably check to see if it was cheaper online, and it was – $16/yard at Fabric.com. I got a little bit carried away and ordered a whole load of samples as well for no particular reason other than that I thought they were pretty.
This is where the project stalled, because I had to wait for the fabric to arrive. It took four days, and when it did, I draped it over the headboard to make sure I loved it. It was pretty and the colours were perfect with the rug…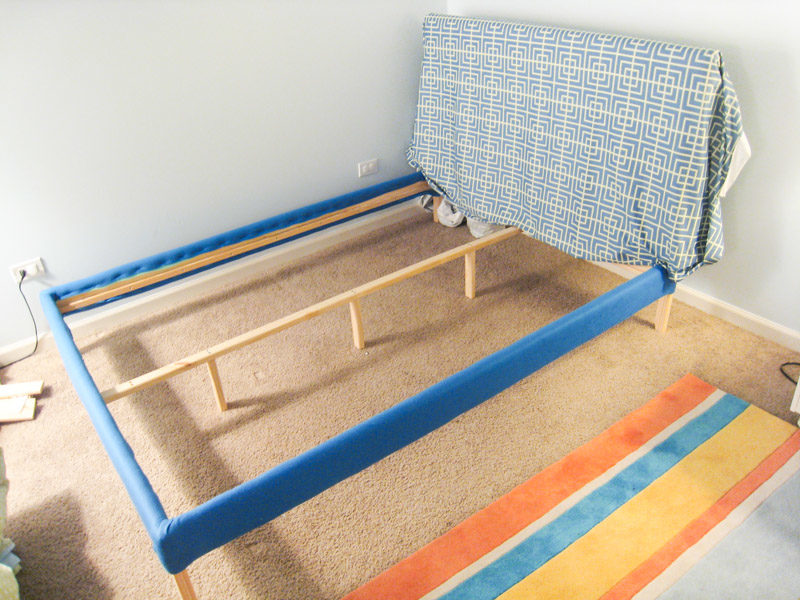 …but it just wasn't quite right. I thought there might end up being too much blue in the room and, on an area that big, it sort of made my eyes hurt.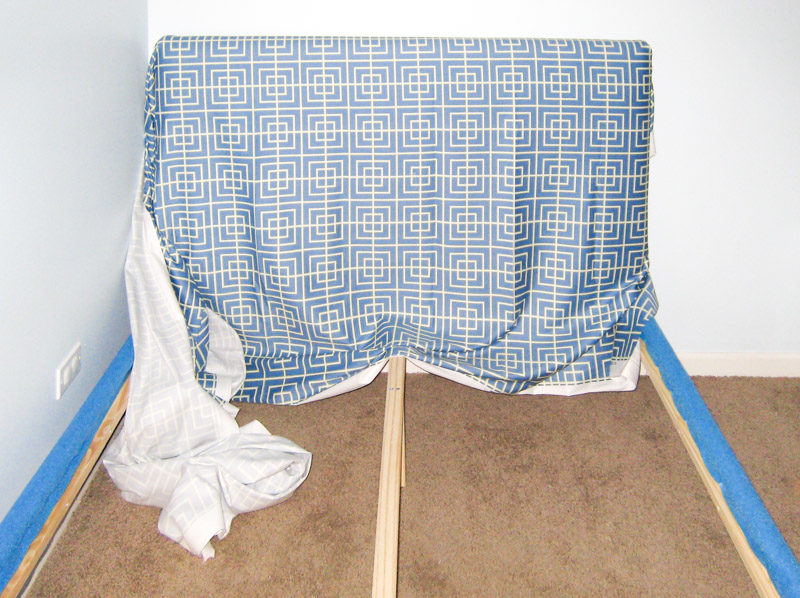 Fortunately, though, one of the samples was more promising:
I totally wouldn't have picked this had I not put the sample up at home, because I was set on a brighter colour to draw from the rug. But the rug has a neutral stone as one of its stripes, and the charcoal works great with the concrete ceiling and pillar. And so began another few days of waiting. (Incidentally, I completely recommend Fabric.com – shipping is free on orders over $35 and returns, thankfully, are really easy and free.)
This time, when the fabric arrived, I was sold. So I had another frenzy of stapling, until it was almost finished…
The bedding is a simple DIY. I used iron-on hemming tape to attach ribbon to a plain white duvet cover and pillow cases.
Six: The Legs
I still had to paint the legs, but I'm avoiding VOCs (for Miss Wigglepants' sake), so I had to wait another week for the Mister to do it. He taped the fabric and used a coat of primer and then another of high gloss white paint.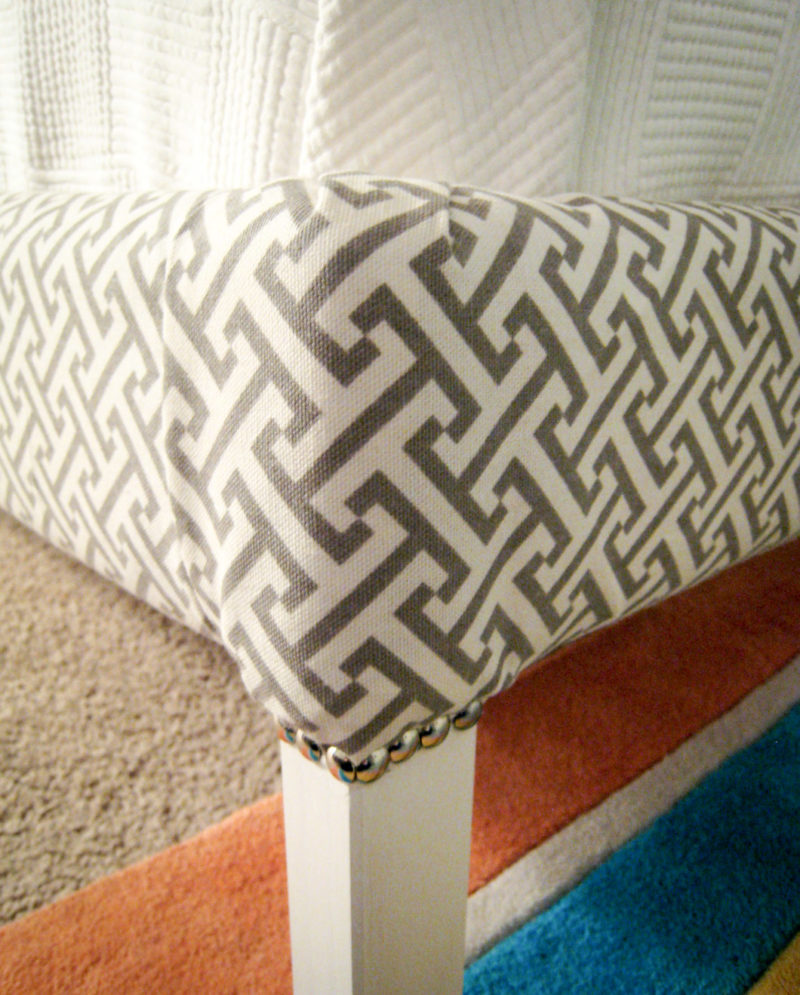 The final step was adding a few decorative nails to the legs (left over from my
coffee table re-do
). I'm still debating adding more to the headboard, but I'm not sure it needs it.
After!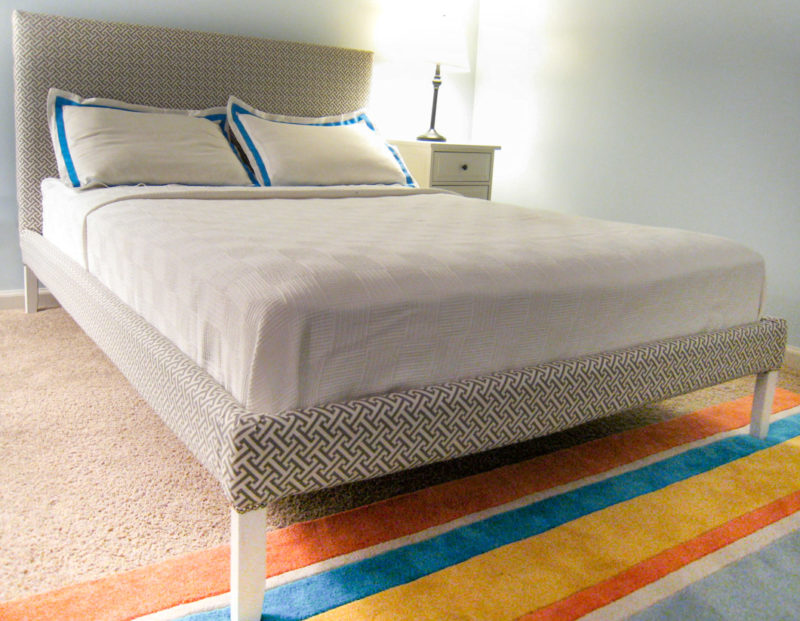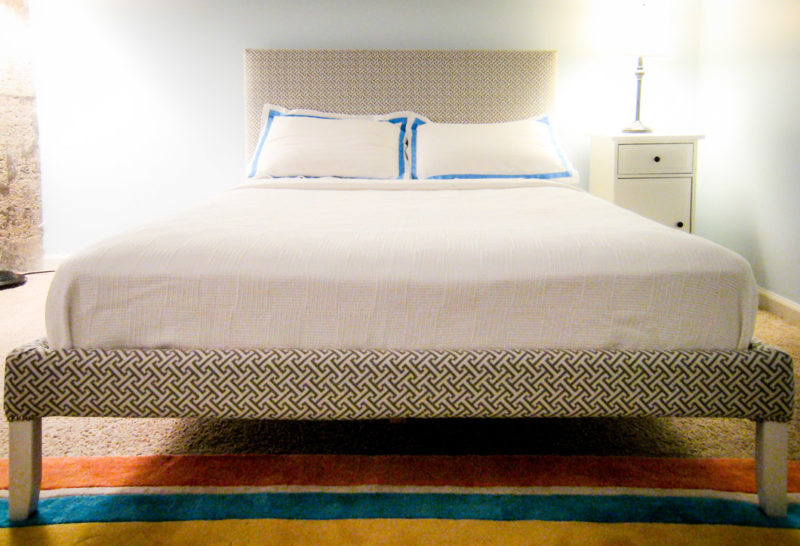 Cost Breakdown
Bed frame – $50
Slatted bed base – $30
Plywood – $15
6′ of 1″ square pine beams (for headboard) – $13
Memory foam mattress topper (for the headboard) – $5 (on sale)
Foam batting – $30
Waste of money wool felt -$5 (on sale)
Fabric – $70
Tools and hardware – already owned
Total cost: $218

Which, for an entirely upholstered bed, is really good. Even just a upholstered headboard at Ikea will set you back $250, and then you have to add box springs, a bed frame and a bed skirt on to that. So yes, I am rather happy with my hack job, and the Little Man likes it too.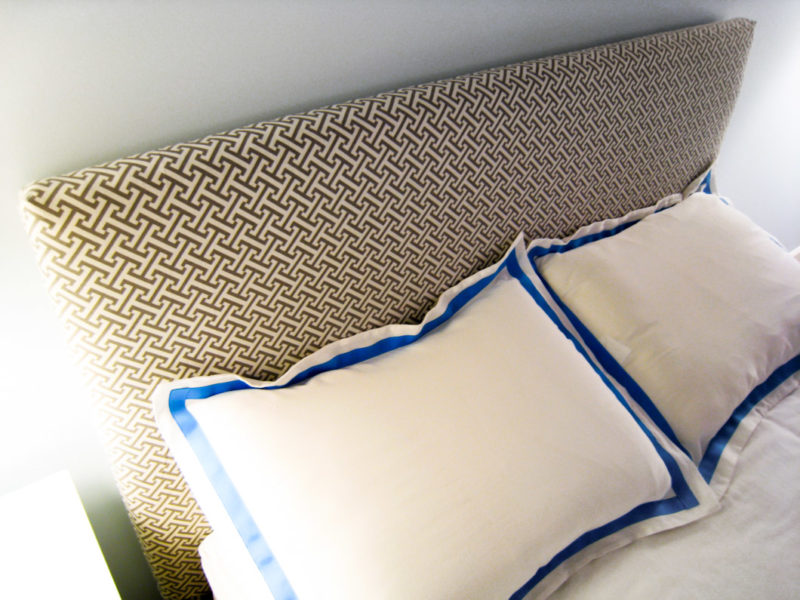 Here's a slightly more substantial peek at where the rest of the room is at now – it's slowly coming together.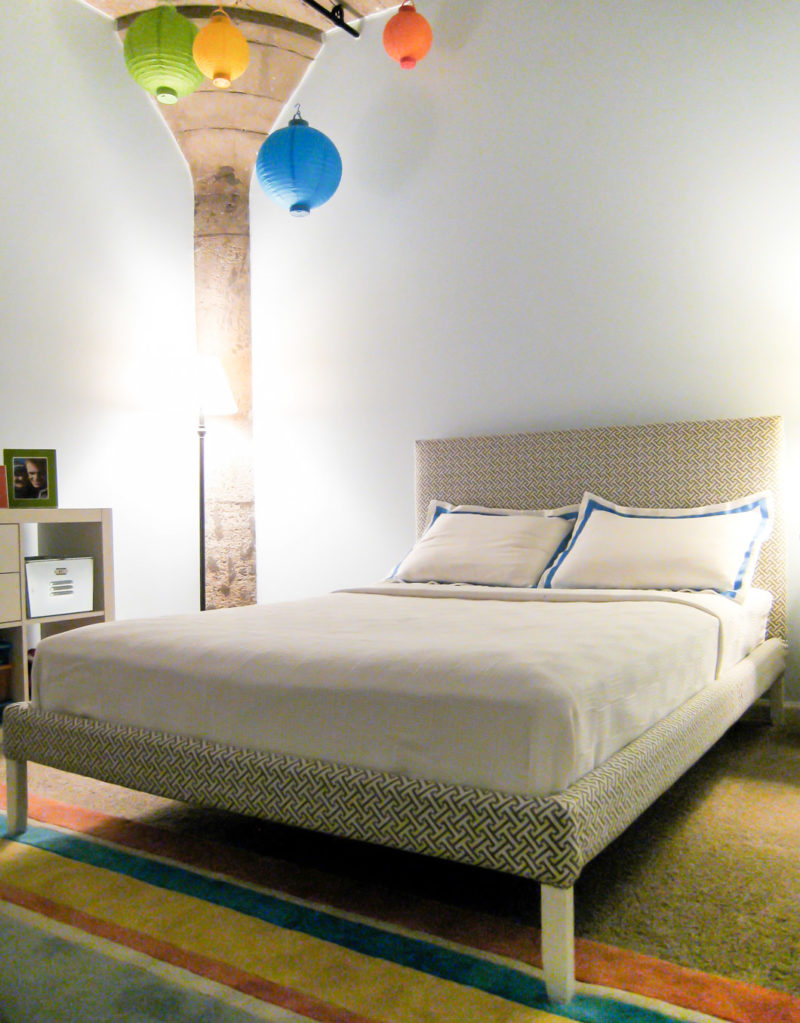 And one more final before and after: